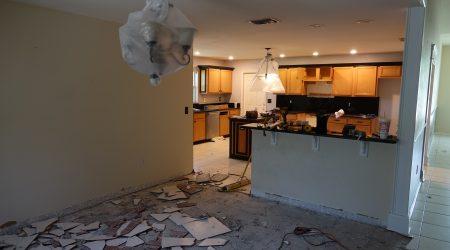 After a particularly strong thunderstorm, the Brown's called saying that they had a roof leak that flooded the kitchen, pantry, and into the dining room. Our emergency team went out immediately, and covered the roof with tarpaulins, while the insurance details could be finalized and we could begin to remove the damaged woodwork, drywall, cabinets, and part of the ceiling.
This was a big remodeling project as not only did the walls, ceiling, kitchen cabinets, and floor get damaged but the flooring in the kitchen and dining room ran throughout the whole house and all of it had to be replaced. This remodel became the Winning Remodeling Project for Waller Group in 2020.
The remodel involved:
Replacing damaged plywood and installing new 30-year warranty shingles across the entire 3500 sq. ft of roofing.
Cutting out all the inside damaged woodwork, drywall, and baseboards. Testing all the woodwork, checking for mold, and doing the remediation as required.
Repair all the woodwork and drywall and ceiling.
Removing all the kitchen cabinets and install new Kemper custom colored shaker style cabinets.
Remove existing granite countertops and install new white quartz countertops.
Remove and replace all the backsplashes and tiling on the kitchen walls.
Demo and remove all the existing tiling throughout the house and replace it with new plank tiling.
Replace the baseboard throughout the house with 6-inch oversized baseboards.
Install new lights in the kitchen, dining room, hallway, and family room.
Install new stainless-steel high-performance quiet hood.
Install all new kitchen cabinet hardware.
Rebuild demoed pantry.
Paint the kitchen, dining room walls, and ceilings.
Install new Double front doors.
We can't speak highly enough of Waller Group's team from the minute we called them to help with the roof, then remodeling the kitchen, they were committed to helping us in every aspect of this remodel. Their expertise in helping with the insurance claim was amazing and Brian's knowledge of insurance claims was incredibly helpful.

Once it was decided what was going to be repaired or replaced. We met with Joe and Loren from Waller's design team and decided on the style of Kemper Shaker cabinets and oversize upper cabinets we wanted, plus an extended island, adding a hood vent, separate drinks fridge, etc. Waller Design then produced the architectural and 3D drawings showing how everything would fit together.

After the design was approved, their construction team was great to work with, especially Tom and Prim who did all the cabinet fitting and woodwork throughout the house.
Thank you to Brian Waller and Waller Group for all their hard work.
Steve and Sue Brown
Kitchen Remodel Project

Family Room and Office Remodel Project

Formal Room Remodel

Installed New Double Doors
A Winning Remodeling Project by Waller Group